Featured Products
Specialized Industries
We speak designer.
We're here to help you put what's in your head on paper. We do things a little differently than most. You see, we're not an online printer. We're a printer that is now online. And we've taken the same philosophy to the web that we've had in our shop for 35 years.
You really love us!
I wanted to thank you for printing and shipping those rack cards out to me so quickly. They turned out beautifully (as I expected and knew they would).
Jess Glebe, Jess Glebe Design
Thank you so much for all of your help with our printed pieces for Dreamforce. Everything looked great and was the best quality. I look forward to working with you in the future.
Brooke Glynn, Creative Director at SpringCM
Thank you! I have found you and your colleagues to be prompt, courteous, and helpful throughout this process!  Thanks!
Chris Wasilewski, Marketing Coordinator at Inspera Health
Blog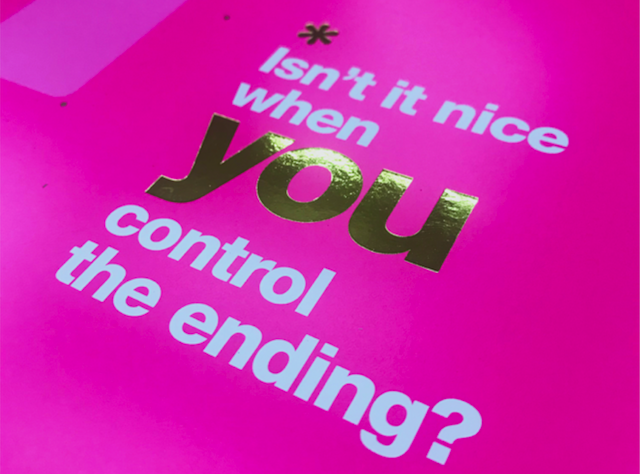 Our story is all about bringing yours to life. But how do we do that? Good question. Here, we offer a behind-the-scenes glimpse of the various printing methods we utilized to execute our latest direct mailer, "Isn't it nice when you control the ending?" We start with an attention-grabbing concept. In this case, it's about...
There's a certain process to design and creativity that we tend to follow: research, plan, create, analyze. But what if we're missing a step? Where does happiness play into the mix?
Read More
Narrative is what gives human experience meaning. Narrative is what triggers emotion, and empathy.
Read More